Unlock Docomo Japan phones.
Processing time: 1 to 48 hours
Most Android Phone models are supported except for old phones or very nre ones. For  iPhone's a different service is needed.
Did you recently purchase a Docomo phone which is "Carrier Locked" and you're unable to use it on another Service Provider Network? Whether you have an Android or an iOS device, we can unlock it fast and easily! In order to Unlock a Docomo Phone to work on another network, you will require a Network Unlock Code (for all devices except iPhone).
No refunds for phones that do not ask for an unlock code.
How to Unlock Docomo Phone to Work on Another GSM Network
Most cell phones were built to accept an unlock code to release the lock set by the carriers. These Unlock Codes are unique to your phone's IMEI number and no two unlocks are the same. Once you enter the Docomo Network Unlock code into your device, the Docomo lock will be released from the network restrictions, and you will be free to use your Docomo Phone on any compatible GSM carriers  in the world (worldwide).
Docomo Network code will be provided.
Check network compatibility with new carrier before ordering.This service is not for iPhones.  For Docomo iPhones Please order here
Supported Devices (NTT docomo only)
NTT Docomo Galaxy Active neo SC-01H
NTT Docomo Galaxy S7 edge SC-02H
Docomo Galaxy S8 SC-02J
Docomo Galaxy S8+ SC-03J
NTT Docomo Galaxy Feel SC-04J
Galaxy note8 SC-01K
Galaxy S9 SC-02K
Galaxy S9+ SC-03K
Galaxy note9 SC-01L
Galaxy Feel2 SC-02L
Galaxy S10 SC-03L
Galaxy S10+ SC-04L
Galaxy S10+ (Olympic Games Edition) SC-05L
Galaxy Note10+ SC-01M
Galaxy A20 SC02M
DM-01G DM-01H DM-02H DM-01J DM-01K
NTT Docomo FUJITSU ARROWS
F-04G F-05G F-01H F-02H F-03H F-04H F-01J F-02J
F-03J F-04J F-05J F-01K F-02K F-03K F-04K F-01L F-02L F-03L
SH-03G SH-04G SH-05G SH-06G SH-01H SH-02H SH-04H
SH-01J SH-02J SH-03J SJ-01K SH-03K SH-01L SH-02L SH-03L
SH-04L SH-02M
NTT Docomo Xperia Z4 SO-03G
Xperia A4 SO-04G
Xperia Z4 Tablet SO-05G
Xperia Z5 SO-01H
Xperia Z5 Compact SO-02H
Xperia Z5 Premium SO-03H
Xperia X Performance SO-04H
Xperia XZ SO-01J
Xperia Compact SO-02J
Xperia XZs SO-03J
Xperia XZ Premium SO-04J
Xperia XZ1 SO-01K
Xperia XZ1 Compact SO-02K
Xperia XZ2 SO-03K
Xperia XZ2 Premium SO-04K
Xperia XZ2 Compact SO-05K
Xperia XZ3 SO-01L
Xperia Ace SO-02L
Xperia 1 SO-03L
Xperia 5 SO-01M
Nexus 5X
dtab d-01H d-02H d-01J d-01K d-02K
MONO MO-01J MO-01K
V20 PRO L-01J
V30+ L-01K
JOJO L-02K
NTT Docomo
LG
style L-03K
LG style2 L-01L
P20 Pro HW-01K
P30 Pro HW-02L
M Z-01K
KY-01L
NTT Docomo Google Pixel 3a
If your device is not listed above please make sure the phone is locked to Docomo. Otherwise Please contact to confirm.
Before ordering from us go to the following page to check if it is Eligible to be unlocked or not: http://nw-restriction.nttdocomo.co.jp/search.php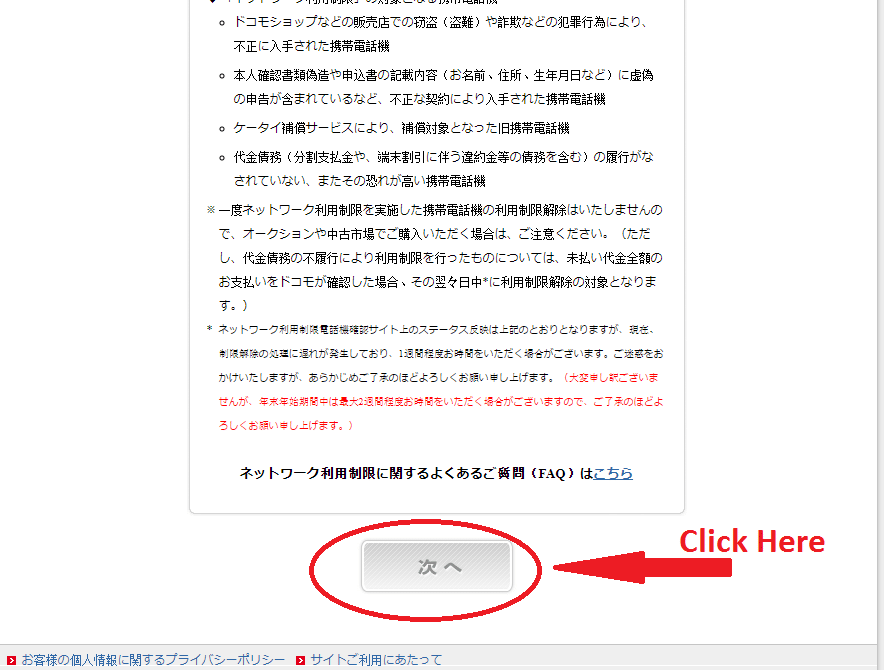 It's in Japanese but if you don't understand don't worry just look at the picture results. You will get one of the following results:  O △ X –
On the next page:
Enter your  IMEI number  in first box, and the security code in the 2nd box, the result will show in the middle box on the following page.
Possible Unlock Results:
Clean(○)-> You Can order from us
Under_Contract(△)-> You Can order from us
Unpaid_Payments(×)– Don't order this service (not eligible for unlocking)
Not Found (-) – Don't order this service (not eligible for unlocking or wrong carrier)