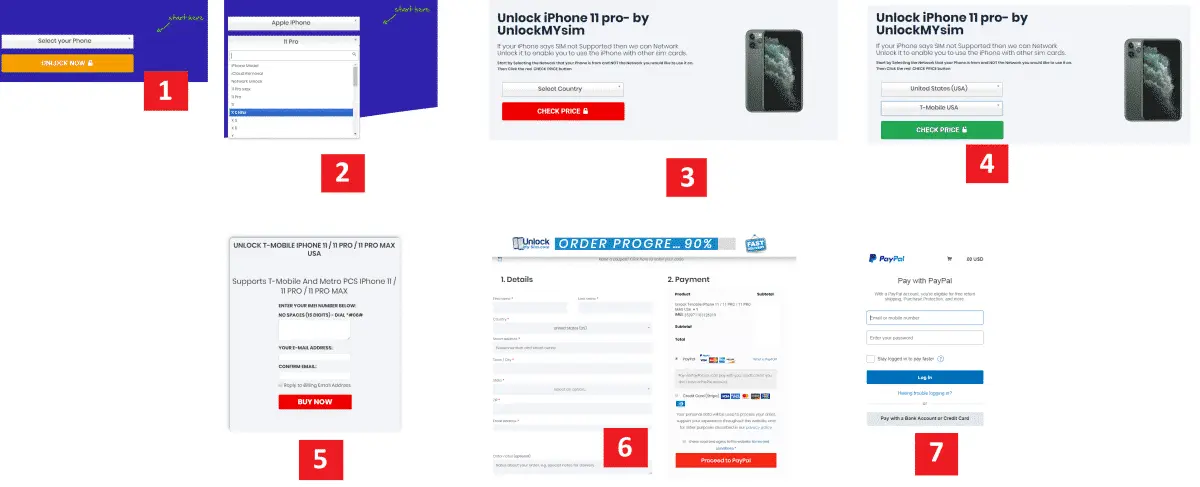 Frequently Asked Questions
---
Q)What does it mean to Unlock your device?
A) Only unlocked devices can be used with SIM cards from other companies. When a device is unlocked, it means it can be used on different carriers. Carriers often lock the phones they sell so they won't work on any other network. Your phone may also be locked if you still owe money on it.
Q)  How does this work?
A)  When you place your order, you provide your cell phone's IMEI number.  This is your cell phone's identification number.  When you order a iPhone unlock, your IMEI is placed in a whitelist database or when you order an unlock code for an Android device your unlock code is retrieved from a database.   We do not need your cell phone physically and you will not need to download any programs on your cell phone or computer. You can update your cell phone to the latest software and you will never lose your unlock.  Unless we clearly mention in the service description otherwise.
Q) What is a Clean IMEI?
A) A clean IMEI is a Phone that has not been reported lost, stolen, or blacklisted by the carrier it's locked to.
Q)  Am I paying for software?
A) No. These are official remote unlocks done through Apple or unlock codes retrieved directly from their respective manufacturers database.  In some cases we may suggest a software solution when no other option exists to unlock your model / carrier.
Q) Can I use my cell phone on "X Carrier" after my cell phone has been unlocked?
A) Please contact us first to see if we can help answer this question.  Otherwise, please contact your future carrier for additional help.
Q)  Can I update my iPhone to iOS X.X?
A)  Yes you can update your iPhone at anytime.  You can also update to any future updates and your iPhone will never lose it's unlock.
Q)  How do I really know my cell phone is Factory Unlocked?
A)  After receiving confirmation that your iPhone is unlocked, perform a backup/restore in iTunes.  If you perform a full restore in iTunes, you will receive a message that says, "Congratulations, your iPhone has been unlocked."  If it's an Android phone, insert your new sim card and your cell phone will ask for the unlock code or sim network unlock pin automatically.
Q)  Do I need to update my iTunes?
A)  Yes make sure the version of your iTunes is up to date.  Download the latest version here: apple.com/itunes/download/
Q)  My iPhone is not Factory Unlocked yet, can I get a refund?
A)  You are always guaranteed a refund if your cell phone is unable to be unlocked.  However, while your order is processing, a refund can not be provided.  You must wait for the results of your order before a refund can be issued.
Q)  The network my iPhone is locked to is not listed.  Can you unlock it?
A)  Please Email  regarding inquiries for other networks.
Q) Is my cell phone unlocked yet?
A) Your order remains as "pending" until results have been emailed to you.  Please double check your Spam Folder so you don't miss the unlock confirmation or rejection email.
Q)  How long will it take to unlock my cell phone?
A)  The processing times are listed in the service description.  Please read the service description carefully to avoid complications with your order.
Q)  My cell phone is now unlocked, but how come it's not working with "X Carrier"?
A)  If your cell phone has been blacklisted, it may not work with another carrier in your country.  Please do your due diligence by checking the blacklist status before placing your order. 
Q) What is the status of my order?
A) If you have not received an email from me, then your order is still pending. Check your Junk Mail / Spam folder in case. You can also track your order online.
If your question has not been answered, please contact us.