How to Get the SIM Network Unlock PIN for Free for Your Cell Phone
Is your handset stuck in a carrier lock? The trouble with carrier lock is that you can't connect to any other carrier's mobile network. This is deliberate and is meant to discourage consumers from getting into a purchase relationship and then switching to another carrier, but there are ways to get around the lock. In this guide, we'll clarify what you need to know about SIM network unlocking PINs and how to unlock your own handset from a carrier.
---
Frequently asked questions about SIM Network Unlock PIN You can never forget
We also listed some of the most commonly asked questions for your review. If there's a problem, just feel free to let us know.
What's a SIM network unlock PIN / Code?
The SIM network lock doesn't directly affect your SIM card, but instead it locks your phone. Basically, anytime you purchase a mobile phone from a carrier, it adds a lock. Adding this form of lock ensures that the handset can not be used on another carrier's network, it can only be used on the original telecom's network.
In order to remove this lock and thus allow your phone to be linked to some other carrier, you must acquire a SIM Network Unlock PIN. SIM Network Unlock Pin is a code (usually 8 or 16 digits) that is used to unlock an Android phone from its original carrier so you can use it on other carriers. There are many ways you can do this, as we will clarify later in this guide so that you can remove a carrier lock from your own phone.
Does your phone say "SIM Network PIN" or "SIM Card PIN"?
Sim network pin  is not the PIN of the SIM card. The SIM card PIN is different. With an active SIM lock, if the SIM card is inserted into another mobile phone, none of its practical functions can be used – making phone calls and sending a text impossible. The SIM card PIN is the code inserted that unlocks the SIM card itself and makes the SIM card accessible again.
Why is My Phone asking for a SIM network unlock PIN / Code?
If you see that your phone is telling you to unlock the PIN ("
Invalid sim card, network locked sim card inserted
"), there's a legitimate explanation for that. Typically, this is a common firmware problem that occurs when you install an upgrade or reset the phone to factory settings.
Fixing it can be as simple as restarting your phone, but if the problem persists, you will need to get a PIN to unlock to get rid of the message and be able to use all the functions again.
Where can I download the software for SIM Network Unlock?
Sorry to report that there is no such
unlock code
generator
or software for getting the code. So we're going to talk about how you can get a free unlock pin below.
Why am I supposed to unlock my phone?
One question that we keep seeing readers ask is whether they should even bother to  unlock their mobile at all, and there are many valid reasons to have an unlocked phone:
You can connect your phone to every other carrier, not just the original one.
You would be able to choose from a broader spectrum of contracts, not just one telecom network.
If you've purchased a second-hand handset, unlocking would make you bring your own SIM card in.
What does unlocking a phone actually do?
There may be some misunderstanding about what it means to activate the SIM network, because the fact is, it just helps you to connect to any compatible provider. What makes the network compliant with it? Depending on the original provider, the handset will be on a GSM or CDMA network.
Once you unlock your handset, you can only connect to networks in the same category – it's difficult to connect a GSM system to a CDMA network provider.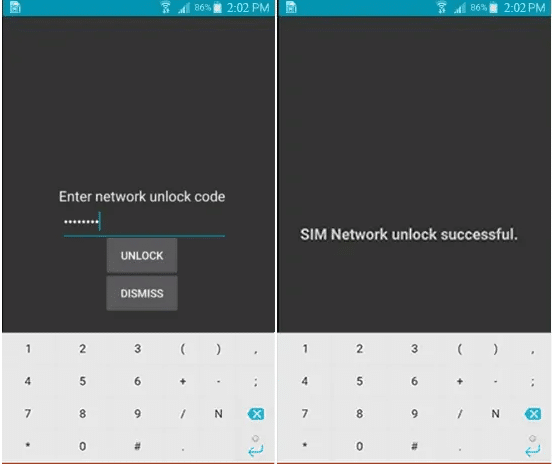 How do I unlock the SIM network PIN / Code for Free?
So, what can you do to open the PIN? The simple choice is to only get in contact with your new carrier and ask for assistance. Most of the time, they will support you without any problems, but be warned that they will charge you a fee for this service.
Requirements to access the code
The conditions that you must meet to unlock are: The mobile phone you unlock must not be
blacklisted
(you can verify this with our 100% reliable IMEI checker!). You must have had the system attached to your carrier for a minimum amount of time, which varies depending on your carrier. You would have billed the entire amount of your phone contract and have no outstanding payments
Steps to unlock the SIM network pin
Once you are confident that you fulfill each of these criteria, you should go ahead and follow the brief step-by-step guide below.
 Please contact the service staff of your carrier and order an unlock code.
 You will be requested to show that you are the owner of the cell phone that you are accessing, so please include any details that you request.
 After you show possession, your order for the unlocking of the SIM network PIN will be sent. It may take as long as a week to receive a PIN.
 When you have obtained a PIN, turn off your phone and delete your old SIM card.
 Insert the SIM card from your new carrier and turn your handset back on.
 If the phone loads and the SIM card is identified, you will be asked to enter the unlock code to continue.
The measures may be different from those of the different carriers. We have identified some of the most common carriers for you to get a SIM network unlock pin:
This is what there is to it. As we mentioned, it can take some time (up to 7 working days) to get a 
SIM network unlock code
 from your carrier, but once you get it, you're good to go. However, if you're going to have your phone unlocked sooner, there's another option.
What if you can't get a SIM network to unlock the PIN or if it doesn't work?
If you can't get an unlock code for whatever reason, the code doesn't work, or you just want to process the unlock quicker, you can use the unlocking service instead. This is by far the most powerful path you can take, which almost ensures a good unlock.
Best unlocking service – UnlockMySIM service
Our favorite unlocking service provider is UnlockMySIM, a reputable and well-known website that has never disappointed us. Everything you need to do is have some details about your phone, and this knowledgeable team will handle everything else for you. Unlock iPhones and Android phones (Samsung, Huawei,
LG
, HTC, Vodafone, Apple, etc.) from their carriers Phones linked to virtually any carrier can be unlocked After unlocking your phone with UnlockMySIM, your mobile will not be locked again.
There are so many benefits of using UnlockMySIM, but above all, it offers a fast and convenient service that nobody else can offer. To start with unlocking your phone using unlockmysim service follow the steps below:
 Using a web browser to go to the UnlockMySIM website.
 Choose a smartphone brand, you can choose Samsung Unlocks or other manufacturers from the menu.
 On the following tab, confirm your carrier and enter the IMEI number of your mobile phone (dial * # 06 # to retrieve this. To proceed, press "Unlock for any Sim Card").
. Then, enter the personal details you ordered, and then you will need to enter your payment address.
When your deposit has been made, the order will continue to be processed and you will be alerted as soon as the unlock code is received.
Now, open your phone and enter the unlock code to unlock your phone!
If you can see it, it's as simple as it can be. You fill in the form with the specifics of your mobile, apply for your payment, and within a few days, you will be able to connect your phone to the carrier of your choosing without the limitations you are currently experiencing!
How We Have Tested This Service
To give our readers a deeper insight into our review methodology and better understand why we suggested UnlockMySIM, here is how we tested it: We demanded the unlocking of a number of iPhones and Android smartphones The phones we unlocked have been attached to various carriers. We weighed the price of the service and how easily the unlocking took place. We evaluated the feedback leftover on UnlockMySIM at each of the review pages We also reached out to customer service for advice on the unlocking process Overall, they checked all the boxes we were searching for. All the cell phones were successfully unlocked and were able to connect to the carriers we selected, the service was provided quickly and cost-effectively, and customer care was incredibly helpful.
Conclusion
SIM network unlock PINs are very handy to have, and now that we've discussed them in this in-depth tutorial, there shouldn't be any doubt about what they are and how they function. Hopefully, you can now have a 
PIN
 to unlock your handset, but if you don't, the only thing you can do is put an order with UnlockMySIM and let the pros take care of it for you. These professional professionals know just what to do, and we promise you that they provide high-quality services!